There is no doubt that a dune buggy Dubai tour is an exciting and thrilling activity that many adventure enthusiasts enjoy. You get to drive fast-paced vehicles on the vast and challenging desert terrain, explore the region's natural beauty that is impossible to find in the city and spend some memorable time with your family and friends.Even though buggy tours Dubai seem fun, it comes with dangers. Dubai has specific navigation rules and guidelines for off-road activities, including dune buggy tours, to ensure everyone has a good and enjoyable time without compromising safety. Here are some important safety regulations you must know before taking such a tour, so read this helpful guide until the end.
Safety Regulations to Follow for Dune Buggy Rides
Remember these regulations before booking the tour and follow them thoroughly. You are here for fun and enjoyment and don't want to ruin it by getting involved in an accident or getting fined for breaking the law. 
Book a Tour with a Reputable Company 
The first and foremost thing to do is book a tour with a reputable company officially registered with the Dubai Department of Tourism and Commerce Marketing (DTCM). This ensures that the company will follow all the safety regulations and act according to the law. 
Never book your tour with a brand-new or small company that is not registered; they may never follow safety regulations. They won't take any responsibility for the losses that might occur. Further, read online reviews and ask people's opinions when booking buggy tours Dubai trip. 
Choose a company like Best Dune Buggy Dubai that follows all safety guidelines, is registered with DTCM, and has been providing service for the past ten years in this field.
Wear Safety Equipment 
Always wear the safety equipment whenever you hop on a buggy to begin your ride. Ask your tour operator to provide the necessary equipment and further inspect it to ensure it's not damaged or broken. 
Common safety equipment includes:
Helmets to protect your head from injury.
Goggles to prevent sand from getting in your eyes.
Knee pads.
Also, ensure the helmet fits you properly and is not too tight, which will be uncomfortable or loose, which may fly from your head when you drive at high speed. 
Having a Driving License 
Some tour operators require a valid license to participate in dune buggy Dubai tours. This ensures you have the skills needed for driving a car and won't be involved in reckless driving. 
However, not all companies require a driver's license; some need identity proof, which you can show through an ID card or a passport if you are a foreign tourist. 
Best Dune Buggy Dubai doesn't require any driving license from visitors who book the Dune Buggy tour with us. If you are a newbie, our tour guides will give you some important driving lessons on operating a dune buggy without additional cost.   
Restrictions Regarding Age of Passengers 
There are age restrictions by some tour operators when it comes to driving, and you need to check them before booking. However, if you are above 16 and have driving experience, you are good to go and drive the buggy. 
Those between 8 and 15 years old must be accompanied by a responsible adult for the ride and cannot drive the vehicle. Since dune buggy Dubai rides are fast-paced and get your heart pumping, they are unsuitable for older adults with heart conditions and children below five years old. For more information on age restrictions, always call your operators to confirm you and your family meet their criteria. 
Always Follow Your Guide 
Always follow your tour guide during the tour since they know every inch and corner of the terrain and know the best routes and safety rules. This is especially important for those who have booked the tour for the first time.Further, for new visitors, we advise you to book guided tours to ensure you have an enjoyable time and don't get lost in the desert. For more information and booking of guided tours with Best Dune Buggy Dubai, contact our helpline today or message us on Whatsapp.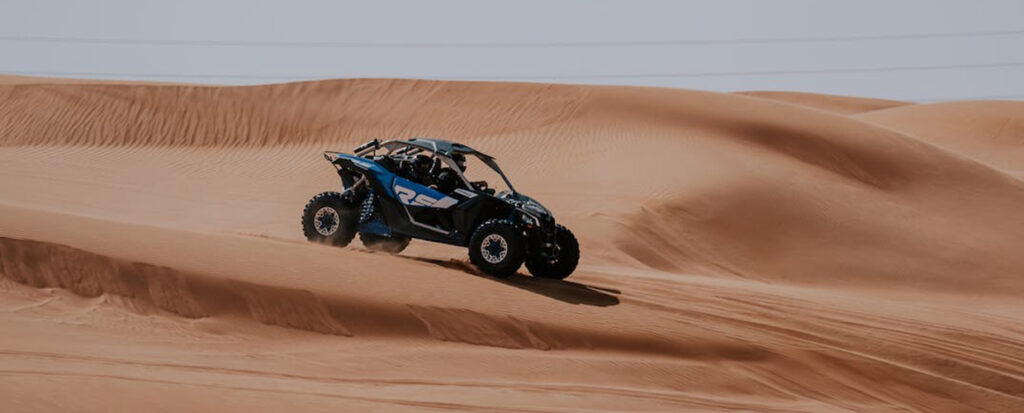 Don't Drive After Drinking Alcoholic Beverages
Never drive a buggy after drinking alcohol or during the ride. This may lead to impaired judgment, which can cause fatal accidents and harm other riders' lives. Further, you might face serious legal actions if you are found guilty of a crime that endangered lives.
Some tour operators offer alcohol at campsites during buggy tours Dubai, and you can drink after the ride if you want to, but never before and during.
Comply With Weight Restrictions of a Dune Buggy
Dune buggies have certain weight limitations for persons they can carry, beyond which their stability and maneuverability may malfunction. That's why always ask your tour operator about the weight limitations of a dune buggy and follow them.
If your group has more people that exceed the buggy limit, book another buggy or another with multiple seats that can carry your group. Today, 1-2 and 4 seater buggies are available with every rental company in Dubai.
Respect Environmental Regulations
When you are in the Dubai desert for an adventure or safari tour, you must respect the environmental regulations; this includes not throwing any litter or waste products in the area and properly disposing of them in dust bins and trash cans placed there.
Further, don't harm any wildlife you see; drive carefully to avoid injuring them. Stay on designated routes with little to no nature mapped for the ride. Remember, if you are involved in any of the mentioned illegal activities, you will face a hefty fine or even prison punishment if it's too severe.
Review and Acknowledge Wavier Forms
Some rental companies may ask you to sign a waiver form or consent form in which they say they will not be held responsible for any loss or accident that might happen during the trip. It is upto you to accept them or not. If you are sure you will be careful and no accidents will occur on the tour, sign such forms without hesitation and acknowledge them.
Otherwise, if you are worried about any mishap, talk about them to your tour operator to clear up any confusion.
Keep Your Body Hydrated and Drink Plenty of Water
Since the dune buggy tours are conducted in a hot desert climate, you must Water is essential to staying hydrated and preventing dehydration. heatstrokes in a worst-case scenario. Book the tour during the winter, from October from February to April, when the climate is mild, warm, and bearable.
Remember to Drive Within Speed Limit and Avoid Reckless Driving
Always follow the speed limit to avoid injury and ensure your fellow drivers' safety. As mentioned, dune buggies are fast-paced vehicles, and it isn't easy to control them if you are driving at high speed, especially if you are a new driver.
Choose the easiest routes with fewer turns and ask your tour guide about a safe speed limit to follow. Again, we remind you here to wear safety equipment.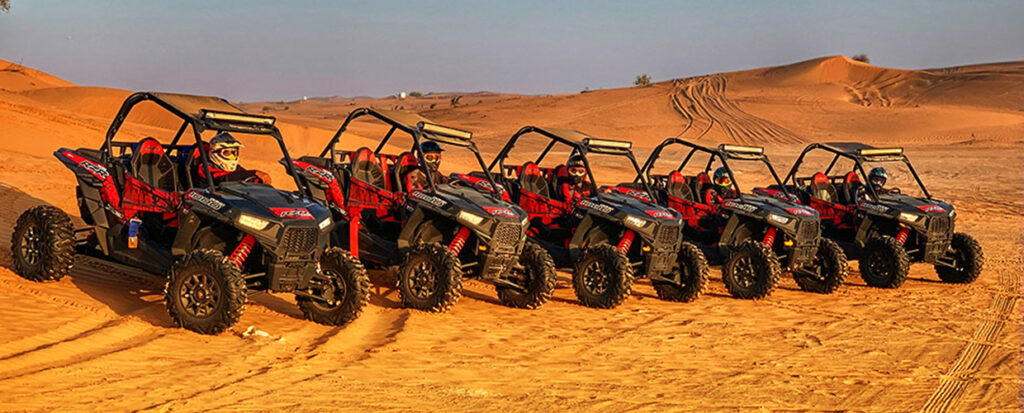 Be Careful When Driving Around Sharp Slopes and Tall Dunes.
Slopes are difficult to drive around; if you are a new driver, you must practice before taking on challenging terrains. Slow down your buggy when you approach a turn to avoid sudden jolts. The same applies when ascending or descending a dune; don't accelerate too much; it may roll over the buggy.  
Prepare For Emergencies
Although we have discussed every safety tip to ensure riders' safety, just in case of emergencies or accidents, it is best to carry a first-aid kit along the tour to treat any injuries that might happen. Ask your tour operator if they have equipment you can take along the ride. 
Further, be aware of the nearest hospitals and medical facilities to treat injured persons promptly.   
Lookout for Weather Conditions 
Check out weather conditions on the day of the tour and be sure the sky is clear and there are no thunderstorms or sandstorm predictions on the day of your tour. If there are, you can schedule the tour at some other time or get your refund from the rental company if they have such policies and you have paid in advance for the trip.  
Best Dune Buggy Dubai offers a 100% refund due to bad weather conditions, and if you want, we can reschedule the tour for some other day as requested. Remember to call us within 24 hours for a 100% refund in case of cancellation. 
Take Your Complaints or Concerns To Relevant Authority:
Suppose you have concerns about the tour's safety like the safety equipment being broken or if dune buggies are faulty and giving off a noise when starting; immediately report to your tour operator or, if possible, to police and law enforcement authorities. So they can look into it and see if the services could improve. 
By adhering to these regulations and safety guidelines, you can enjoy a thrilling dune buggy tour in Dubai while ensuring the well-being of yourself and others and protecting the desert environment. Always prioritize safety and responsible off-road driving practices.
For more information regarding buggy tours or early booking, contact our helpline at Best Dune Buggy Dubai.