If you are planning a vacation with your family and friends and want to try something new rather than just visiting the same old places in the city, we suggest you try an off-road adventure like the Dune Buggy Dubai tour.
The tour takes place in a peaceful desert environment, far away from the city, where you can drive 4×4 open-air buggies to explore the vast desert region thrillingly and click memorable photos against the mesmerizing backdrop of sunsets.
Well, that is only some of you can do; read on to find out more about what buggy tours Dubai are all about and what makes them the best off-road adventure one must try in their lifetime.
What Are Buggy Tours All About?
Dune buggy Dubai tours are conducted on 4×4 dune buggies, and compared to cars, they can be easily driven on rough and challenging surfaces like sand and mountains. Today, numerous tour operators in Dubai offer these vehicles for rental purposes, which tourists and locals can take to explore the city's desert area, engage in heart-pounding activities, and try something new if they want to.
If you want to rent a buggy tour for your vacation, contact Best Dune Buggy Dubai services and offer us the chance to give you a memorable and thrilling time.
Remember, these tours are not for everyone. Suppose you are not into daring activities or want a peaceful time in the desert. In that case, we suggest you book a desert safari tour with camel riding, a hot air balloon ride, and a campsite dinner, which is equally entertaining.
What Makes Dune Buggy Riding the Best Off-road Adventure?
Here are a few reasons why buggy tours in Dubai are the best form of off-road adventure one can try.
It Provides a Sense of Freedom
One of the best features of dune buggies is the sense of freedom they provide the ride. Unlike other vehicles, we drive on roads that are closed from the top; the dune buggies are open-air vehicles, and when moved in the desert, allow you to experience the beauty of the area from up close and feel the rush of wind striking your face as you go at high speeds.
Offers the Most Intense Adrenaline Rush
Dunes buggy rides are primarily intended for individuals passionate about adventure sports. Some of these sports include mountain climbing, skydiving, paragliding, etc. A dune buggy tour falls in the same category and is significantly safer than the activities mentioned.
Whether a novice or an experienced adventure enthusiast, you will love it and likely return to try it again.
Gives You a Unique Driving Experience
Desert dune buggy driving offers a unique experience akin to mastering an art form. This is the art of handling a vehicle on tough surfaces. In this case, it's a sandy terrain. Sandy terrain presents a unique challenge that differentiates it from conventional driving conditions. Discover the perfect balance between speed and control as you maneuver through shifting sands.
As you gain confidence in your capabilities, you can easily traverse the dunes expertly without worrying about any mishap or accident. The satisfaction you get from mastering dune buggy riding is unmatched, leaving you wanting more.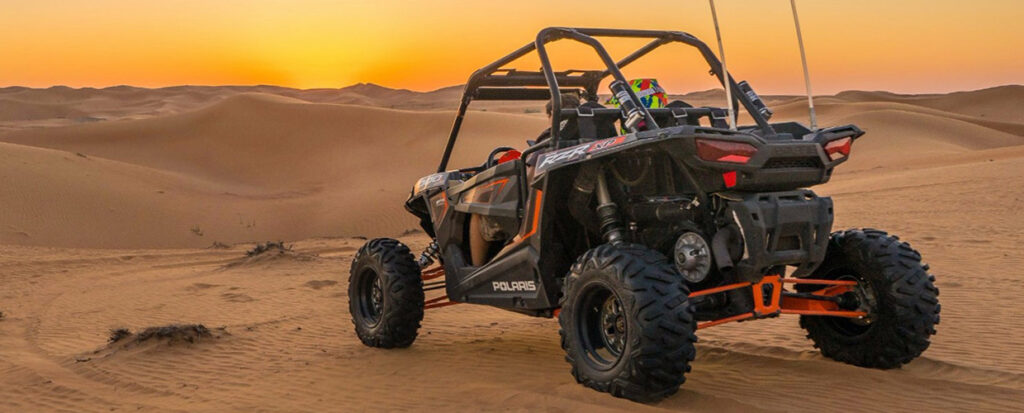 It's Completely Safe and Convenient
Buggy Tours Dubai is safe for everyone to enjoy and ride. Your tour package will provide the appropriate safety equipment and gear to protect your body. This equipment consists of helmets, goggles, and knee pads. The helmet is most important as it protects your head and ensures it fits you properly and is not lose if it falls off your head or is too tight, making it uncomfortable.
Further, dune buggies are designed in such a way as to provide maximum protection to the driver. They come with roll cages to prevent accidental rollover of the buggy, handlebars for powerful grip, and large tires for strong traction on the ground.
Everyone, regardless of age, can enjoy it, including older people and children.
Helps to relieve stress
You may be quite stressed or have been indulged in work and personal issues and can't seem to catch a break from your hectic routine. We suggest you book a dune buggy Dubai tour with your friends or family, spend a relaxing time amidst nature in peaceful surroundings, and forget about your work or other issues for a while.
An adventurous activity like dune buggy riding can provide a healthy distraction from daily worries. The joy of navigating the dunes and the attention you need to drive the buggy on a challenging terrain can divert your attention away from stress-inducing thoughts.
Further, physical activity such as this triggers the release of endorphins, natural mood elevators, and stress reducers.
Unforgettable Desert Views and Sunrise/Sunset Scenery
When going on a dune buggy tour, you are not going on a simple adventure but entering a new world of Desert landscape, which completely contrasts the city. The desert serenity offers a much-needed escape from the noisy city.
Take time to embrace the desert and see its surroundings and beauty. Talking about beauty, how can one miss the sunset and sunrise views when there? The best time to take a dune buggy ride is in the evening or early morning and witness the magical sunset and sunrise views transform the sand into a golden color that will leave you amazed. Remember to take some memorable photographs against this backdrop to keep it as a memory for the tour.
Preparing for a Dune Buggy Dubai Tour
Booking a dune buggy ride is a straightforward process. Here are simple step-by-step instructions to follow:
Find a Reputable Tour Operator
The first step involves finding a reliable tour operator. This consists of searching online, reading reviews, and asking for recommendations from your friends. Please don't go for the cheaper ones; they might compromise quality and ruin your tour. If you are trying dune buggy riding for once, you better spend extra money to have a smooth and enjoyable experience.
Choose the timing and Duration
Once you have selected a tour operator, after thorough research, choose the day, time, and Duration of the tour you want. During the tourist season (October-November), demands are high, so we suggest booking in advance to avoid any last-minute mishaps or paying extra. 
Choose the Type of Tour
Next, you have to choose the type of dune buggy tour you want; guided tours are ideal for newbie riders as you will have a knowledgeable instructor who will teach you everything about the tour and driving lessons. Self-drive tours are suitable for seasonal experts who know what happens on these tours and what instructions to follow. 
We have discussed tour options in the previous section, which most rental company's offer.
Learn the Basics
Before you embark on your desert dune buggy adventure, you should familiarize yourself with basic handling and controls. Even though these vehicles are agile, it is important to understand how to maneuver them in the desert.
You will likely be given a briefing on the controls, including the throttle, brake, and steering, by your rental company or tour guide. This session should be carefully observed to ensure you can operate the dune buggy confidently. Before heading to the dunes, practice driving in open spaces.
Popular Dune Buggy Tours You Can Book
There are plenty of dune buggy tours you can choose from a variety of options depending on your needs options, including the number of participants you are, the timing, and the type of buggy you want to book.
Guided Buggy Tours
Those who are interested in trying out dune buggies for the first time may find guided tours to be an ideal package. A qualified tour guide conducts these excursions that assists you with driving the buggies and remains beside you for the duration of the tour to ensure your safety.
Observe and obey his instructions, such as what to avoid, how fast to go, when to stop, etc. If you are a newbie, we recommend booking this tour to ensure a safe and comfortable journey.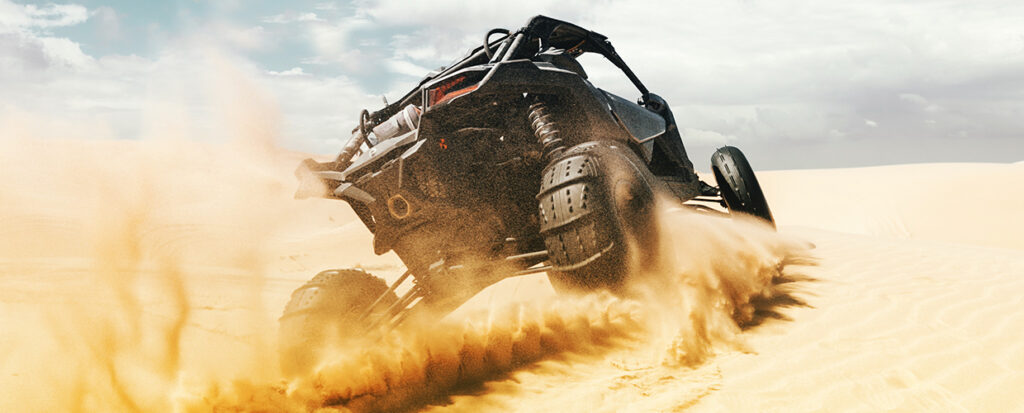 Self-Drive Buggy Tours
Self-drive buggy tours are ideal for professionals who have gone on this trip several times and know everything about them. Like how to drive a buggy, tackle rough terrain, the speed limit, and safety precautions to follow.
Remember, there is no guide alongside you on this tour. That's why you must follow the important guidelines to avoid any mishaps. Respect the environment, don't litter or harm wildlife animals, only drive in the designated areas, and always wear safety equipment while on a buggy.
Sunset and Sunrise Tours
Sunset and sunrise tours are conducted in the evening and early morning, where you drive the buggy to the highest dune and observe the sunset and sunrise views of the desert, which you can't find elsewhere.
These tours are also ideal for a romantic gateway with your partner and provide the perfect setting for wedding proposals and similar stuff.
Private Tours
Typically, private tours are tailored to suit the needs of groups that wish to have an exclusive experience. The tour involves a private pickup in a 4×4 vehicle from your hotel or designated location in the city. After arriving in the desert, you are treated to a private sitting with comfortable sofas in a camp.
You will further have the option to customize the tour as you like, which involves choosing the route, tour duration, and the type of buggies you want.
Dune Buggy Tours With Desert Safari Activities
Most tour operators provide desert safari packages, including buggy tours in Dubai alongside several other activities. Besides dune buggy, you can enjoy camel riding, quad biking, sand boarding, and dinner at the campsite in one exclusive package, making up for the perfect desert adventure.
Best Dune Buggy Dubai offers all these tours at a reasonable cost and exactly as described. Visit our service page for more information, or contact us at the number below for any queries.
In conclusion, buggy tours Dubai adventure offers an exciting escape and adrenaline rush into the new landscape, providing a unique driving experience. Take a break from your and try something new that will surely leave you with memories.