Whenever you are planning a trip with friends or family that involves some off-road activities, dune buggy Dubai is, without a doubt, your best option. A desert tour is conducted in a remote location away from the clamor of the city. As you spend time with your family in the desert, you will be able to relieve the tiredness and exhaustion you may be experiencing after a hard day's work. 
Even so, driving a dune buggy in rough desert conditions is no easy task. As a beginner, practicing safety precautions is important to avoid injuries. The following are some helpful tips you should remember when taking a dune buggy trip in Dubai, so please be sure to read the entire guide.
What Is Dune Buggy Adventure in Dubai?
As we all know, Dubai is surrounded by a vast desert that stretches for miles and beyond. Such a location provides a perfect playground for numerous sports adventures we can engage in on sandy surfaces. Dune Buggy Rental in Dubai is one such sport and is quite popular in the region. Every year, countless tourists visit Dubai to participate in such activities and have fun with their family and friends.  
You can rent a dune buggy from the numerous tour operators in the city to go on an off-road excursion. Dune buggy tours are suitable for everyone regardless of age and gender. Children and older people can have as much fun as younger people. The reason is dune buggies are easy to drive and come with several safety features like roll cages, large tires, and handlebars to ensure the safety of the driver and its passengers.
Even though the buggy offers these features, it is up to the user to prepare themselves on their own to ensure more safety. So, if you are considering booking a dune buggy rental in Dubai, please read the following 13 tips for the best possible time.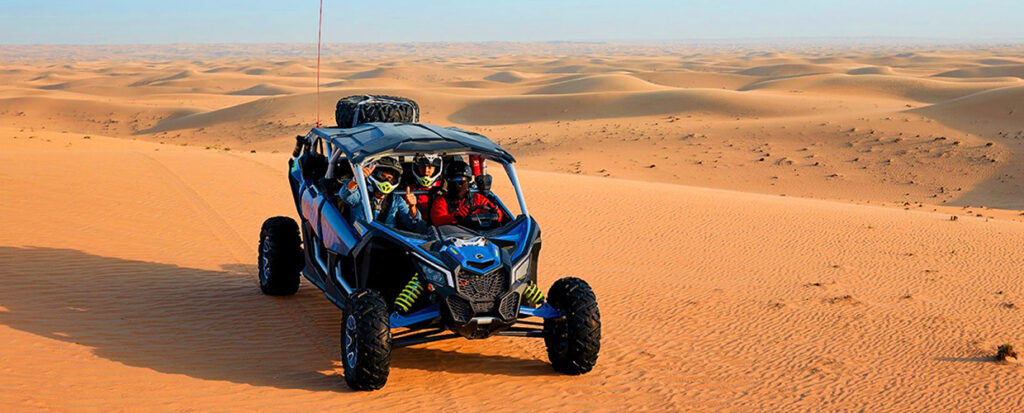 13 Helpful Tips for a Safe and Memorable Dune Buggy Tour
To ensure you have the best experience possible during your Dubai dune buggy tour, look at the following tips for preparing for your trip.
Dress Appropriately For the Desert Weather
Since you are going on a trip in the desert and the climate is hot, you must dress accordingly so your tour is comfortable and hassle-free. We recommend you wear something light that allows easy movement for the dune buggy tour during the day and evening. A suitable choice would be cotton and linen clothes. You can bring a shawl and jacket at night because it gets chilly. Please don't wear anything stretchy made from nylon, spandex, or mesh material that might get entangled in the buggy when you get on or off from it. 
You can wear sandals or flip-flops for your feet, which allow easy movement and don't allow any debris to get stuck in the feet. 
Alternatively, you can cover your head and neck with a hat or scarf to shield yourself from the sun's rays and sand's breeze. Besides providing shade, it will prevent sweat from dripping into your eyes and keep you cool. For more help, our tour guides at Best Dune Buggy Dubai will provide all the information you need, so listen to them carefully. 
 Keep the sun off of your skin by applying sunscreen
The strong sunlight in Dubai requires you to use sun block with a high SPF (Sun Protection Factor) before your tour and reapply it as often as necessary during your trip. By doing so, you protect your skin from the damaging effects of the sun. Aside from that, it reduces the chances of getting sunburned and other skin conditions. 
Make sure you bring some cash to purchase sunscreen at a local store if you do not possess sunscreen. It is better to be safe than sorry. The whole point of your vacation is to have fun, so you don't want sunburn to ruin it all. 
Be Sure to Bring a Camera to Capture Your Memorable Moments 
Bring a camera to capture the beautiful scenes of the desert and record your tour's memorable moments. A camera can be the latest iPhone model or a DSLR that captures the best photo. Remember to charge your phone before the tour, and if it's DSLR, bring some extra batteries so it never runs out of power. 
Some people might want to use a Go Pro camera during the buggy ride to record their journey, and it is good to capture your memories. Remember to attach the camera to the buggy so that it does not interfere with its controls or safety equipment. 
Remember to Drink Plenty of Water since it is hot Out There
As you are aware of the intense heat of the desert, you need to take as many precautions as possible. Drinking adequate water during the tour is one of the most important precautions. Ensure that you bring a water bottle before the tour begins and fill it up as needed during the tour.
As part of your package at Best Dune Buggy Dubai, you will also receive beverages at the campsite so that you do not experience any thirst and enjoy your adventure to the fullest. Furthermore, you will find several stops where you can rehydrate by filling up your water bottle. 
Listen to Your Tour Guide
Observe the directions provided by your tour leader. Their extensive knowledge of desert adventures allows them to determine the safest routes and what to do in an emergency. Those new to driving can learn the basics of driving a buggy within a few lessons. 
Additionally, they ensure that you remain safe and secure during the tour. If you book a guided tour, a guide comes with you to guide you through the most accessible desert routes and ensure your safety if something goes wrong with your buggy.  
Always Wear Safety Equipment to Avoid Any Injuries  
The safety equipment you receive from your tour operator helps protect you from injuries that may incur during the dune buggy Dubai ride. The kit includes a helmet, knee pads, gloves, and goggles. 
When wearing a helmet, ensure it perfectly fits your head, is neither too tight, uncomfortable, nor loose, and might come off your head. It is important to ensure that your goggles fit underneath your helmet to prevent them from breaking. You get all the necessary gadgets and safety features whenever you book with Best Dune Buggy Dubai.
A pair of gloves will also protect you from burns caused by the hot temperatures in the desert during the summer. 
Think about purchasing travel insurance
We all know that life is unpredictable, and we never know when we might encounter trouble. There is no harm in taking the extra precaution of getting travel insurance, just in case, before going on your dune buggy tour. Although travel insurance policies can't prevent accidents that might happen on the road, they will give you some financial protection to help you pay for your medical bills and any losses you may have incurred.  
So get your travel insurance from a well-reputed company or ask your close relatives or friends about any recommendations if they have gotten any. 
Inspect Your Buggy for Any Damages before Starting Your Ride 
There are better choices than an unfit buggy for you to ride in. You are most likely to experience accidents when riding in a dune buggy if your vehicle is not appropriate in the first place. Even though a wide range of buggy choices are available, it is still important to ensure that your chosen vehicle is properly maintained in all respects.
Test drives are an effective method for identifying problems associated with this problem. It is one of the most common signs that your buggy is damaged if it rides bumpy or unsmooth. It is, therefore, important to proceed with caution at all times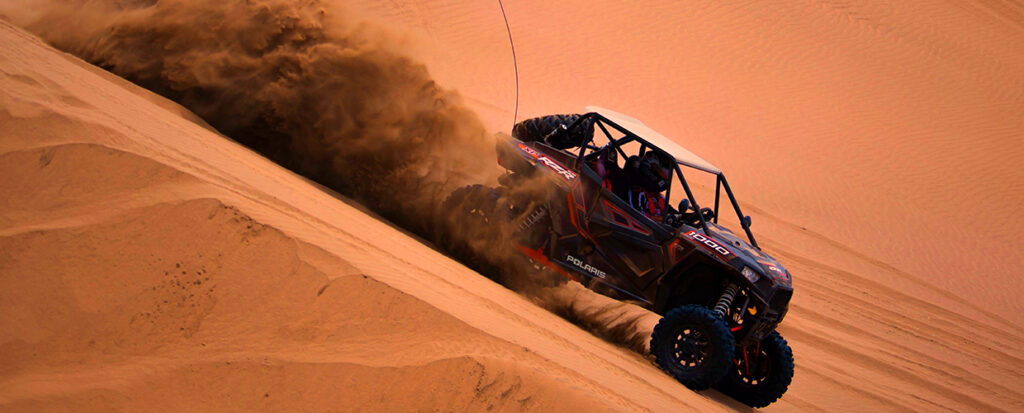 Make Sure You Drive Safely
Always drive defensively and within the posted speed limit. Dune buggies have powerful engines that can reach up to a speed of 130 kph, which is not easy to control, especially if you are a new driver.
Choose the easiest routes with fewer turns and not many uneven dunes that make it easy for you to handle your buggy. Further, ask your tour guide about the safe speed limit of the buggy you have booked and important tips you must follow when taking your buggy in rough conditions.
Use Headlights When Necessary
If you are planning to drive a buggy at night, then it is necessary to use headlights to guide your way among the dunes. Driving in the desert is completely different from on the road; sharp turns and deep drops are everywhere, so you must be careful and know where you are going. Using headlights is important when driving at night. So ensure your buggy light is working properly at the time of riding.
Watch out For the Weather Conditions
Before booking a dune buggy ride, it is important to consider the day's weather conditions.
Only book the tour on a too-hot day if you are not accustomed to the local weather conditions. Similarly, check for weather updates regarding any sand storms that might happen later in the day.
Ask your rental company about the weather updates of the day before you prepare for the tour. Cancel the tour or plan on another day if the weather is about to get unpleasant.
Prepare Light Snacks For The Trip
Participating in a dune buggy adventure can be physically demanding and will drain all the energy from your body. In addition to staying hydrated during the tour, you must remain energized. For this purpose, you can bring light snacks like dry fruits or granola bars in your bag to keep your energy levels high.
If you don't have any light snacks for the tour, you can also purchase some from the food stalls at the campsite location with little cash on hand.
You should also consume light food before you embark on the dune buggy tour. The reason for this is that the desert terrain has lots of bumps and sharp turns, and traversing them at high speed might make you feel nauseous or dizzy if you have eaten a heavy meal. So, if you have not eaten anything before the tour, you can bring light snacks that you can eat during the tour.
Take Frequent Breaks During the Tour
As off-road activities can be intense physically, regular breaks are essential to refuel one's energy between adventures. During the tour, you will likely have the opportunity to stretch your legs and take in the scenery, so you should take advantage of this opportunity to eat the light snacks you have brought and capture the picture on your camera alongside your memorable moments.
We hope you enjoy your Dubai dune buggy tour safely and have a memorable experience. Follow these 13 safety tips to have a unique and enjoyable adventure. 
Best Dune Buggy Dubai places great emphasis on the safety of its guests. Our goal is to provide our guests with top-notch safety equipment, vehicles, and safety instructions so they will return for another tour in the future. If you want to make a reservation or book early, please get in touch with us via the service page.