Dubai's deserts are a wonder of nature, and anyone visiting the city should always consider a trip to the desert to make their vacations memorable. Buggy Tours Dubai is best for exploring the natural beauty of these deserts. See the sunrise and sunset views from the top of the dune and traverse along the natural paths at high speeds in dune buggies designed for traveling in these areas.   
You may know Dubai for its exotic lifestyle and tall buildings you see in the news and elsewhere, but if you are not a big fan of city noise and large crowds bumping into one another and want some peaceful way to relax, then head towards the desert that lies outside the city limits. 
Are you trying for the first time well do not worry, Best Dune Buggy Dubai is here to guide you and take you on an unforgettable adventure amidst the wilderness. Contact us today for booking or ask any queries you may have. We have compiled this guide to help you prepare for a dune buggy ride, so be sure to read it. 
What Exactly Are Buggy Tours in Dubai Deserts?
Buggy tours are conducted on dune buggies, 4×4 vehicles specially designed for driving on desert terrain. Vast deserts surround Dubai, providing the ideal playground for driving dune buggies and exploring the area. 
For those people who crave adventure and daring activities, buggy Tours Dubai is ideal for them. You get to drive a vehicle in uncharted territory at high speeds of upto 130 kph while making sharp turns and climbing high dunes, which is thrilling and exciting at the same time. 
Dune buggy rides are not for faint-hearted people. If you are trying them for the first time, we recommend booking guided tours where an experienced staff member will guide you on driving the buggies and which route to take. 
Best Dune Buggy Dubai offers guided tours at a reasonable cost, along with top-notch buggies that are always well-maintained and equipped with the latest safety features to ensure your off-road adventure is as safe and enjoyable as possible.
Why Should You Try Buggy Tours While For Your Dubai Vacation?
Aside from the adventure thrills you are interested in, the following are solid reasons to visit too:
Spend Quality Time in Nature
Dune Buggy Dubai tours offer a perfect opportunity to escape the hectic city life of pollution and noise, spend peacefully amidst nature with your loved ones and friends, and breathe fresh air. This helps to take off all your worries for a while and helps to relax your mind. 
Buggy tours provide an unobstructed view of this breathtaking scenery, allowing you to fully experience the desert's beauty.
Easy Availability of Buggies 
Buggy tours have become a popular tourist activity in Dubai recently. As a result, several tour operators offer buggies for rental purposes at reasonable prices. Also, you can book a buggy as per your requirements with different seating arrangements and engine power.
Whether you are looking for a two-seater with your spouse or a four-seater for your family and friends group, you can easily find it. 
Customizable Packages for Personalized Adventures
There is no one-size-fits-all approach to adventure; your experience should be tailored accordingly. Now, tour operators offer a variety of customized packages that can be tailored to meet your specific needs. There is a package that suits every style and level of thrill, whether you are interested in tackling the highest dunes, exploring secret paths, or just enjoying a stroll in the desert.At Best Dune Buggy Dubai we offer Polaris Buggy Packages for beginners in 1-4 seating arrangements, and for experts, we have Cam-Am Buggy tours from 1-4 seating arrangements along with tour guides.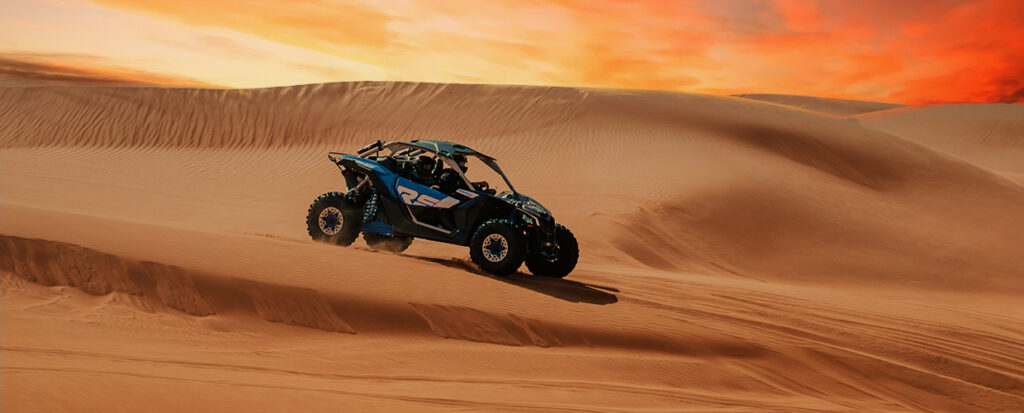 Safe and Secure Form of Adventure
Nothing is more thrilling than off-roading, but it is also an activity that requires careful attention. At Best Dune Buggy Dubai, each vehicle is equipped with a roll cage and seat belts to ensure you can confidently navigate the desert. Also, all the buggies are equipped with soft seats to ensure maximum comfort for the rider.
Furthermore, our vehicles are subjected to stringent maintenance checks before each rental to ensure they meet our high safety standards.
Combine with Other Desert Activities:
You can engage in many activities besides buggy tours in the Dubai desert. You can often combine your buggy adventure with experiences like camel riding, sandboarding, or even falconry, allowing you to make the most of your desert excursion.
How to Book a Buggy Tour Adventure in Dubai?
Booking a buggy tour Dubai is a straightforward process. Follow the procedure below:
Research and Choose a Tour Operator
Start by researching and identifying reputable buggy tour operators in Dubai. Search on Google and read company reviews. See other customer experiences and how they rate the company.   
Also, consider factors such as tour duration, included activities, and pricing when choosing. Ask your relatives about any recommendations if they have booked a tour in the past. 
Visit the Tour Operator's Website
Now that you have chosen a tour operator, it's time to book the tour. Visit the company website for the booking process. Call their mentioned number for any queries you may have. Also, check their website for detailed information about their buggy tours, including itineraries, pricing, and available dates.
Explore the different dune buggy tour options the operator offers and see if they fit your price range. At Best Dune Buggy Dubai you can book in morning and evening times along with whether you'd prefer a guided tour or a self-drive experience.
Review Inclusions and Exclusions
Carefully review what is included in the buggy tour package and what you want; the cost may vary depending on your choice. Including transportation from the hotel will be expensive, or you can choose the drive option too. 
Also, check the safety equipment provided, which is necessary for dune buggy rides. This equipment can be helmets, goggles, and sports clothing. Don't book a tour that doesn't provide safety gear. 
Select the Number of Participants:
Indicate the number of participants for your dune buggy adventure. Some operators may offer discounted rates for groups and families that can help you save some money. 
It's time to make a reservation after deciding your preferred tour type and number of participants. Select your tour date and provide your contact information to confirm booking details.   
Payment and Confirmation:
Complete the payment process to secure your booking. At Best Dune Buggy Dubai you can pay through PayPal, debit card, and online bank transfer. After payment, you should receive a confirmation email or booking voucher. Keep this confirmation, as it will serve as proof of your reservation.
Review Cancellation and Refund Policies:
Take a moment to review the tour operator's cancellation and refund policies in case you change your mind regarding the tour or the weather changes and the tour is canceled completely. 
Preparing for The Dune Buggy Rental Dubai Tour
Now that you understand how to book the buggy tour, let's go through quick tips to prepare for the tour after the booking is made:
Ensure that you pack water bottles
Dune Buggy tours take place in Dubai deserts, which have very hot weather and can make you exhausted and thirsty. You must drink plenty of water to keep your hydration levels high to avoid this. 
Eat light food before riding
Be careful not to eat anything heavy before the trip to prevent upset stomachs that may result in vomiting. Due to the bumpy nature of dune buggy rides, a heavy stomach can cause nausea that may ruin your tour. 
Dress in comfortable clothing
Dress appropriately for your buggy tour Dubai to enjoy it safely and comfortably. Due to the hot climate in the desert, you should dress appropriately for driving. We recommend wearing lightweight long-sleeved shirts to protect your arms from the sun's harmful rays. 
You can wear flip-flops and sandals for feet so the sand doesn't accumulate. 
Use Sunscreen to Protect Your Skin from Sunrays 
Suppose you plan to spend several hours in bright sunlight during your dune buggy adventure. In that case, it is recommended that you bring sunblock and apply it throughout the day at different intervals. 
This helps to prevent sunburn and other harmful skin diseases. 
Don't forget to purchase travel insurance
Travel insurance should be a priority for every tourist. You can obtain a travel insurance policy from a trustworthy provider in Dubai, or if you are traveling from another country, you can do so before departure.
Moreover, you will benefit from the expertise of travel professionals with extensive experience in this field. When an insurance policy covers you before going on a trip, there is a higher level of security.
Buggy tours are adventurous excursions that take place in the desert surrounding Dubai. Those who want to take a break from the city lifestyle and spend quality time with their family can choose such tours and have a relaxing time.  We hope after reading this comprehensive guide regarding Buggy Tours Dubai you have made up your mind. For booking and any queries you may have, do contact the Dune Buggy Dubai representative immediately. We are available at your service.