Enjoy Quad Bike Rental in Dubai's Vast Desert
Enjoy a relaxing Quad bike trip in Dubai, a getaway from the pressures of everyday life. A single trip of Quad biking in Dubai will refresh your mind and provide a new experience. 
At Best Dune Buggy Dubai, we are committed to providing hospitality, safety, and thrill to our customers through our quad biking Biking Dubai rental service. As one of the top adventure companies in Dubai, our quad bike rides will surely make your holiday the most unforgettable.
We offer high-performance quad bikes that can easily handle even the trickiest desert terrains. Whether you are a beginner or a seasoned adventurer, our Quad Bike Dubai rides are for everyone. The expert guides at our company will ensure that your experience is memorable and enjoyable.
Check out our amazing packages regarding Quad Bike Rental in Dubai.
Thrilling Quad Bike Services In Dubai for you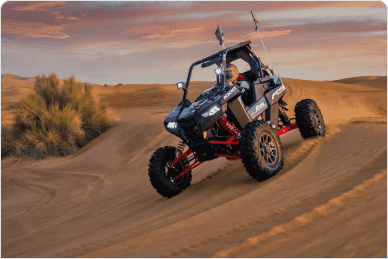 | Duration | Old Prices | New Price |
| --- | --- | --- |
| 1 hour | 749 AED | 489 AED |
| 2 hour | 999 AED | 739 AED |
| 4 hour | 1299 AED | 899 AED |
All Days &nbsp&nbsp&nbsp&nbsp1 , 2 , 4 Hours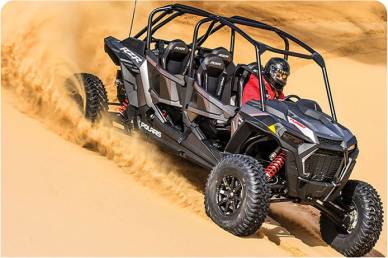 | Duration | Old Prices | New Price |
| --- | --- | --- |
| 1 hour | 749 AED | 489 AED |
| 2 hour | 999 AED | 739 AED |
| 4 hour | 1299 AED | 899 AED |
All Days &nbsp&nbsp&nbsp&nbsp1 , 2 , 4 Hours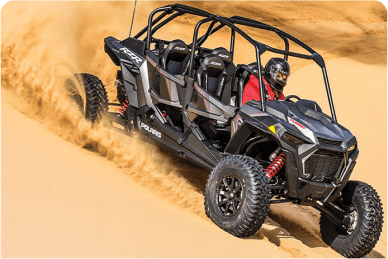 | Duration | Old Prices | New Price |
| --- | --- | --- |
| 1 hour | 935 AED | 799 AED |
| 2 hour | 1430 AED | 999 AED |
| 4 hour | 2750 AED | 2199 AED |
All Days &nbsp&nbsp&nbsp&nbsp1 , 2 , 4 Hours
Ready to book
our adventure tour with Us
An Overview of Quad Bike Rental
There is no better way to explore the Dubai desert than on a quad bike. This type of bike is designed specifically for use on sand, and it has several features that make it ideal for this kind of terrain. They are usually equipped with several gears that allow you to adjust the speed easily for different terrains. Furthermore, they have a special set of tires designed to provide traction and grip in the sand.

Quad bikes, also known as all-terrain vehicles (ATVs), are vehicles that can be driven on a variety of surfaces. If you are looking for a way to spice up your next visit to Dubai, do consider booking a Quad Biking Dubai tour. The tour offers a unique opportunity to discover the area around the city.

If this is your first time trying desert quad biking Dubai, don't worry, our expert instructors at Best Dune Buggy Dubai will guide you through the whole process so that you have a memorable time.

Our company is well known for offering professional service and hospitality that customers enjoy. We are always committed to ensuring that your holiday is one you will never forget.
Embark on an Exciting Quad Bike Rental Experience With Us
We at quad bike rental Dubai continue to serve our clients, fulfill their dreams, and provide them with a thrilling experience quad biking Dubai adventure. No need to worry if this is your first time riding an off-road quad bike. We have expert instructors who will ensure your quad bike adventure tour is safe and exhilarating. Their patience and clear instructions will ensure that you explore the desert and take in the amazing scenery before you know it.
Desert quad biking Dubai is a very exciting activity, especially for first-time riders, but we don't compromise safety. We will provide you with all the necessary riding gear, such as helmets, gloves, and goggles, to ensure your safety. To ensure a comfortable and safe ride, each of our quad bikes is regularly serviced and carefully tuned.
You will find everything you need, regardless of whether you are an amateur or a passionate enthusiast for adventure. Come and experience the thrill of cruising on quad bikes across the desert. Book your Quad Bike Dubai tour today.