A dune buggy Dubai tour is one of the best adventures one can embark on to escape the city and enjoy a tranquil environment in the desert. Dubai desert is the perfect playground for many sports activities, with buggy tours being the most popular. 
Today, numerous tour operators offer dune buggies and similar vehicles on a rental basis for visitors who can enjoy a journey exploring the desert region and spend quality time here. Packages and deals these operators offer vary depending on the vehicle provided the timing of the day, and the persons in a group. 
Those visiting for the first time need help to select the best package and tour that will suit them. Well, fret not; we have prepared this comprehensive guide to help you in the selection process, along with valuable tips for the tour. If you still have difficulty choosing the right package, you can always call Best Dune Buggy Dubai support for your queries. 
Why Do Visitors Like Dune Buggy Tours in Dubai
Let's first discuss why buggy Tours Dubai has recently become the most demanding sports activity and why visitors like it.
Offers the Unparalleled View of the Desert
One of the world's most stunning deserts is near Dubai with rolling dunes that stretch for miles. Buggy tours allow you to explore this region in fast-paced vehicles, a unique experience that is hard to find in the jam-packed city filled with buildings and huge crowds of people.
Further, the stunning scenery of the desert attracts visitors the most. Sunrise and sunset views in a desert are pure magic everyone craves to see and capture on camera.
Adventure Enthusiast Love It
Most visitors who book a dune buggy Dubai tour are adventure enthusiasts and like to try on daring things. Driving a dune buggy at 140kph over uneven dunes and making sharp turns makes it a thrilling experience. So, if you are among these people, we recommend you book a dune buggy tour and try it once.
Provides Cultural Insights of The Region
One more reason why buggy tours are so popular is that they provide valuable cultural insights into the Arab world. You can experience how the locals lived in the past and traveled in the desert.
Some tours offer a stay in a Bedouin camp where you can interact with locals, taste local cuisine, and relax after your physically exhausting tour.
Further, you can add other activities and book a complete desert safari tour to try camel riding, balloon riding, and watching traditional dance shows. All these activities make up for a memorable tour.
Easy Accessibility from the City
Today, several tour operators offer a pickup service from the city, which many visitors find convenient as they can spend less on traveling to the desert where the tour happens, which is at least 35 kilometers from Dubai city center. A luxury company car will pick you up from the hotel or any location you choose.
Family-Friendly Activity
While dune buggies are fast vehicles only experts can drive, we assure you they are safe for everyone. People of all ages, including children and older adults, can try it. They come with the newest safety equipment to protect riders. Family groups can book a 4-seater buggy and can easily enjoy the tour. Further, there are also options for one and 2-seater buggies.
Best Dune Buggy Dubai has all three options available at affordable rates. Call us today to confirm your booking on the desired day and time. We also have pickup services if you need them.
Factors to Consider When Selecting a Buggy Tour
Let's come to the main issue: booking a dune buggy Dubai tour that meets our demands and expectations. Well, there are several factors to consider: 
Tour Duration You Want 
Buggy tours offered in Dubai vary in their duration. You are starting from 1 hour and going upto 5-6 hours. It would be best to decide how much time on the tour you want that fits your schedule. 
For beginners, we recommend starting with 1-2 hour tours as they need to learn more about the terrain and have little to zero knowledge regarding driving a buggy. Those who are seasonal experts can go and book 5-6 hours. 
Group Size 
Group size also determines the tours you can select. Smaller groups want a personalized and intimate experience, mostly families with children. At the same time, larger groups have colleagues and friends looking for a more energetic experience that everyone enjoys.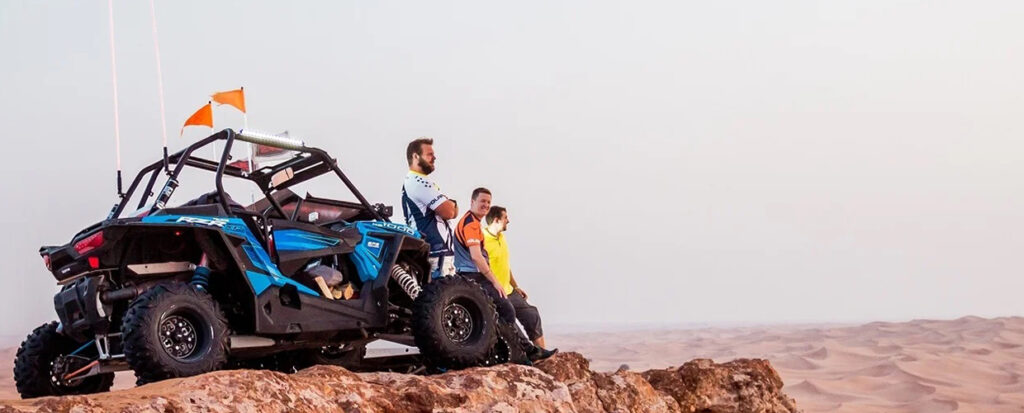 Book from a Reputed Tour Operator 
Always book dune buggy Dubai tours from a reputable company registered with the Department of Tourism and Commerce Marketing (DTCM). Read online reviews and contact people who have previously availed of services from the operator before inquiring about their experience. Listen to their suggestions and recommendations. 
Further, look for guided expertise the tour operator provided and how helpful they were for the tourists.
Best Dune Buggy Dubai is one of Dubai's most reputed tour operators. We are licensed and registered with the relevant authorities, and our buggy tours in Dubai are well-known. You are more than welcome to do your research.
Safety Measures Provided 
Safety should be the main priority when booking a buggy tour. Dune buggies are dangerous for inexperienced riders because a mishap can cause a major accident. Check that the tour operator adheres to strict safety guidelines provided by the Department of Tourism and Commerce Marketing (DTCM). 
Ensure they provide appropriate safety equipment, including helmets, goggles, and knee pads. Additionally, please inquire about the condition and maintenance of the buggies to ensure they are in proper working order.
Inclusion of Activates 
You can book additional activities in a dune buggy tour to enhance your experience. These activities include sand boarding, quad biking, camel riding, a BBQ dinner at the campsite, and much more. These activities make for a complete desert safari package we have discussed and provide much more cultural insight into the region than dune buggies. So, decide which activities align with your interests and add them to your package. 
Accessibility and Location of Tour
Dubai has some of the vastest deserts in the world, and the location where your tours happen matters a lot. Some tours happen near the city center, and you can travel a little, while others require going to the outskirts of the desert several kilometers outside the city. Consider the convenience of reaching the tour's location and the travel time involved. 
There are pickup services offered by operators, as we have discussed, but they might be costly depending on where the tour happens, and it goes out of your budget range. 
Budget Considerations 
Regarding budget, remember buggy tours in Dubai are offered at various prices depending on the tour operator. Those well-reputed operators and well-known in the industry offer slightly higher prices, but their quality is also top-class. 
Some operators who have just started the business may offer budget-friendly options, but remember, the quality might differ from what you expect. Again, read the reviews and inquire from other tourists before the final booking. 
Some operators also offer discounts on special events or groups with a certain number of participants. Look out for those and avail them immediately to get the best deals.
Process of Booking the Buggy Tour
Once you've considered all the factors and identified a tour operator that meets your budget expectations, you can make the final booking. Here are some additional tips to follow for a smooth booking process.  
Book Tour in Advance
As you already know, dune buggy tours are very popular in Dubai and are in high demand, especially during peak seasons from November to March. To ensure that you book on your preferred date and time, always book in advance at least 7-10 days before. The rates go up when limited seats are available at the end. This is especially important if you book on weekends when everyone rushes to the desert for a small break from the city's hectic routine.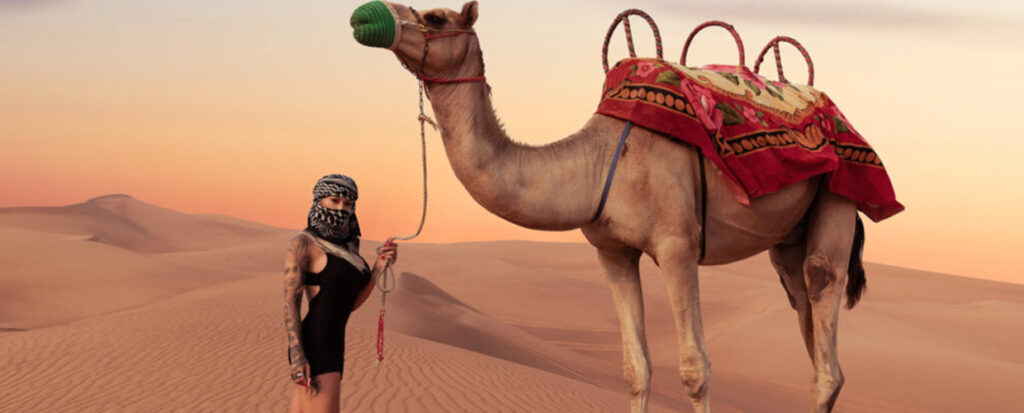 Provide Necessary Information at The Time of Booking 
Whenever the tour operator finalizes your booking, remember to provide them with accurate details as they ask. It includes your Credit/Debit card information from where money will be deducted, along with your passport number or any identity they might ask for. Further, they might ask about group size, the tour you want to book, the date and time, and contact information. 
Always provide correct information to avoid any mishaps or cancellation of the tour if the data needs to be corrected. 
Read about Cancellation and Refund Policy 
Before making the final payment, please read about the cancellation policy, as you may have to cancel the tour in case of emergency, health complications, or bad weather (like a sandstorm or thunderstorm) on the tour day. Ask how much will be refunded and what is the process of refunding. 
Most tour operators have these policies outlined on their website; you can easily read there. 
Confirm Pickup Details 
If you have chosen pickup services from tour operators, remember to provide clear information regarding the address where you want to be picked along with the time. Most visitors prefer pickup from the hotels where they are staying, so tell the hotel name to avoid confusion later. 
Confirm the Booking Reference Number 
After the booking, you should receive a confirmation with a unique reference number. This confirmation proves your reservation and should be presented during the tour. Keep that in mind carefully, or record it somewhere so you remember. 
Follow Safety Instructions: 
When you reach the tour destination, you will be briefed about safety instructions that you must adhere to. Also, wear the safety equipment the tour operator provides and keep it on during the entire tour. Follow the designated route market, and stay close as you might get lost. 
Buggy Tours Dubai is one of the main tourist attractions you can find in the city. These tours are thrilling and adventurous, unlike anything someone has experienced before. If you have tried these, we recommend you do so for once, and you will surely want to return to it. 
For more information regarding buggy tours and early booking, don't hesitate to contact Best Dune Buggy Dubai.