A desert safari adventure in Dubai is undoubtedly an ideal trip you can plan with your family, friends, and colleagues. A day in the desert and natural environment helps remove all your worries and stress and refreshes your mind. Also, it's nice to go once in a while for a vacation to have a fun and memorable time with your loved ones. 
The best desert safari Dubai is an adventurous and thrilling activity one must always come prepared for such a tour if it's their first time to avoid any injuries and to ensure a safe and enjoyable tour. The following 13 rules will help make your desert safari in Dubai an unforgettable experience, from dressing appropriately to respecting the environment. Let's read these rules in detail.
13 Tips for a Safe and Enjoyable Desert Safari Tour in Dubai
On a desert safari tour, you can enjoy thrilling activities like dune bashing, quad biking, and sandboarding, which require caution and safety. So here are thirteen tips to make the most of your desert safari tour and have a safe and sound journey. Read these till the end, especially if you are going for the first time. 
Wear Comfortable and Lightweight Clothes
If you are going on a desert safari, you must wear comfortable clothing and shoes. The temperature is relatively high in the desert, so wearing light-colored and lightweight clothes throughout the day is recommended to keep cool. Wear a full-sleeved shirt to protect your skin from sun rays. 
Evening safaris in the desert are colder than daytime safaris, so you must bring extra sweaters. You should also wear rubber shoes and slippers to protect your shoes from sand granules. We also recommend wearing a hat and sunglasses to reduce the glare from the sun if you plan evening and daytime safari. 
Inspect Your Vehicle and Check its Safety Standard
Ensure your booked vehicle contains essential safety features to protect you in an accident. These features are airbags, handlebars, and seat belts. It applies to all vehicles; in a desert safari tour, you can book dune bashing, quad biking, or dune buggy riding and always inspect each vehicle separately to ensure it is safe to drive. 
Further, check that the air in tires and fuel storage level is full and will not run out during the tour. For more assurance, we recommend taking the vehicle for a small test drive to see if everything works properly, if there is no engine noise, and if the braking system also functions correctly, then you are good to go. 
You shouldn't carry any valuable items while camping in Dubai, even though it is safe, but there is always a theft risk. You should also follow all instructions provided by your guide and driver. Remembering your guide's instructions can make the whole experience safer and more enjoyable.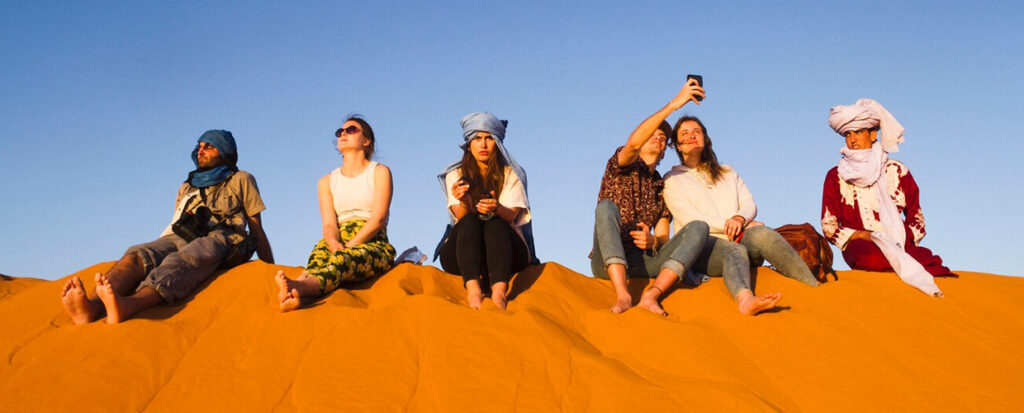 Book Your Tour With a Reputable Tour Company
When planning your best desert safari Dubai tour, it is advisable to book the tour with a reputable tour company. Visit their website to read reviews of their packages, and check out their brochure to learn more about the facilities they provide. Ask the people who have booked the tour and listen to their experience. Also, inquire from your friends and colleagues for feedback about the companies they have booked from, and if it is good, you can also book there.
When you have finalized the booking company, book your tour in advance. Check the cancellation policy and the terms and conditions. Ask the company any questions you have.
Always Wear Safety Equipment Along With Travel Outfits
If you have booked quad biking, dirt biking, and dune buggy rides, then always wear safety equipment before the ride begins and keep it on during the whole tour.
This equipment includes a helmet to protect your head because all these rides are full of twists and bumps that can jolt your body and injure your head. For maximum protection, helmets are manufactured from reinforced materials. Some goggles protect your eyes and prevent flying sand from getting in during the off-roading ride.
Last but not least, buggy outfits are another essential off-roading accessory. This outfit will protect your clothing and ensure a clear road view. 
Choose The Right Time of The Tour
The timing of your best desert safari Dubai tour matters a lot. As you may know, tourist season begins from November to April since the weather is cooler and pleasant, and many foreign tourists rush here for their vacations. Also, it gets too crowded, which makes fare rates go high and the booking process difficult.
If you can manage, we recommend booking a tour in the summer when fares are low, and there are minimal crowds of people. Early morning and overnight safari tours are best during this time because you don't have to face extreme daytime heat.  
Please contact Best Dune Buggy Dubai to get amazing deals and offers if you plan the tour during this period. 
Since the safari tour happens in the desert, and you know weather conditions are hot and dry, it will dehydrate your body. That's why it is always important to drink plenty of water to keep your body hydrated and avoid any fatal medical conditions. 
This tip is especially important when going on an adventurous ride like dune bashing, quad biking, and dune buggy rides since they can be physically exhausting and make you thirsty. 
Although when at the campsite you will find plenty of drinking options so you don't have to worry at that time.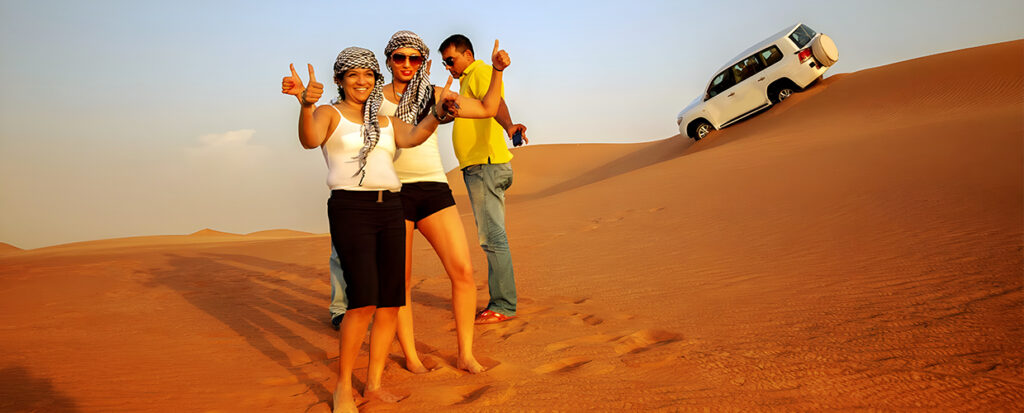 Make sure you keep some cash on hand to purchase souvenirs, videos, and photographs from the official photographers of the campsite. There are several advantages to shopping at these places, including the opportunity to get a great deal if you know how to negotiate. Further, you can buy small snacks and water for your rides along the way if you didn't bring along any. 
Purchase Travel Insurance Before The Safari Tour
There is no way to predict the future, and we will always face trouble at some point in time. Before going on your desert safari tour, it would be best to get travel insurance as a precaution just in case. Preventing accidents in your desert is impossible because you never know when something might go wrong. Still, travel insurance policies offer some financial protection to help cover any medical costs and losses.  
Make sure you purchase your travel insurance from a reputable company, or ask your family and friends for recommendations if they have gotten any in the past. 
Always Drive With Caution
When driving a quad bike or a dune buggy, always be cautious of your surroundings. If you are a beginner, drive at low speeds and on easy routes to avoid accidents. Ask your tour guide about the easiest route and follow it thoroughly. Keep a distance between yourself and other drivers during the ride to prevent collisions, and don't start racing competition with your friends; you may seriously injure yourself and others. 
Please Don't Pollute the Desert or Injure Any Animals
As a tourist/visitor, you must protect the environment and avoid polluting the area. Don't leave any trash/litter on the ground or in the tent during a desert safari tour. There are separate dust bins where you can throw trash, so use that.
Further, avoid injuring animals during your rides and slow down your vehicle if you see them near you. Follow the instructions given on signboards and any violation of environmental laws can result in a heavy fine. 
Please Be Mindful of Health Concerns
If you have health concerns or medical conditions, seek your doctor's advice before going on a desert safari tour. Pregnant women are not allowed to go on dune bashing and quad bike rides, which also applies to heart patients. Please inform your tour operator about your health concerns so they can guide you accordingly.   
Bring Your Camera to Capture Memories
Lastly, bring your camera to capture the memorable moments and beautiful desert scenery. Your camera phone might also work if you have the latest flagship device; otherwise, DSLR works best. Make sure to fully charge your device and bring extra batteries because you will likely get sufficient electricity in the desert area.
We have now concluded our list of desert safari safety tips. We aim to prepare you for your desert driving trip with these safety tips. If you need more help or suggestions, feel free to contact the Best Dune Buggy Dubai helpline mentioned below, and our staff operator will be more than happy to help.