Quad biking is a popular off-road adventure enjoyed by tourists and locals in Dubai. A quad bike tour is conducted in a desert away from the crowded city highways. Besides exploring the desert on fast-paced rides, you get to spend quality time with your family and friends, which helps refresh your mind and removes all your worries. However, as much fun and exciting quad bike rental Dubai sounds, it comes with certain risks and challenges that one must prepare for. New drivers must always be cautious and drive safely at speed limits. To give you an understanding of these risks and safety practices, we have prepared this guide. So be sure to read it till the end, and if you have any questions about the tour, remember to call our helpline at Best Dune Buggy Dubai.
Following are some pre-riding tips for new riders. Those who are seasonal riders know them very well, but it is important to never forget them. 
Familiarize Yourself With Quad Bike Control 
Understand a quad bike's controls and mechanics before you take it for the drive. You must know how to brake, accelerate, and change gears according to your driving terrain. At Best Dune Buggy Dubai we provide free beginner lessons about driving quad bikes that you must listen to carefully. 
Further, you must know about the weight distribution of quad bikes and not overload them with more people, which may damage their suspension and ruin your whole tour. You can always book a separate buggy if that's the case. 
Always wear the appropriate safety gear before a quad biking ride, and never go on without one. Don't compromise or take risks regarding your safety. Safety equipment for quad biking includes helmets, gloves, goggles, and sporting clothes. As for the feet, you can wear long boots to prevent sand from getting in your shoes. 
Your rental company will provide you with all this equipment as a part of the package; you just have to ensure that it is not faulty and fits you properly. 
Inspect Your Quad Bike for Any Faults
Always inspect your quad bike before the ride to ensure it's in optimal condition to drive and has no faults. To ensure this, we recommend taking it for a test drive to verify that its brakes, lights, and all components are working properly. 
See if there is any noise coming from the engine or its sputtering. Convey such issues to your tour operator and have them replace the vehicle. 
Plan Your Route Before the Ride
Plan out your exact route and terrain you will be driving on so you don't get lost and venture elsewhere. If you are going out for the first time, we recommend choosing an easy route with fewer bumps and turns so you can drive comfortably. Your tour guide can help you map out the easy route. 
Seasonal professionals can take on challenging terrain, but they must always wear safety gear regardless. 
Safety Tips to Remember During the Ride
Here are some safety tips you must remember after hopping on the bike and starting your tour. 
Follow the Safe Speed Limit  
Always drive safely and within the speed limit your tour guide asks you to. Further, these limits are mentioned on sign boards. Quad bikes are very fast and easily reach the speed of 140 kph, which can be difficult to handle, especially if you are driving for the first time. 
There is a famous saying to remember this tip: " Speed Thrills but Kills." 
Keep a safe distance between yourself and other drivers during the tour to prevent collisions or mishaps. When you drive near another driver, slow down your bike and go around them slowly. 
Also, avoid doing any racing competition during the quad biking tour since you are not familiar with the terrain, and it might cause fatal accidents.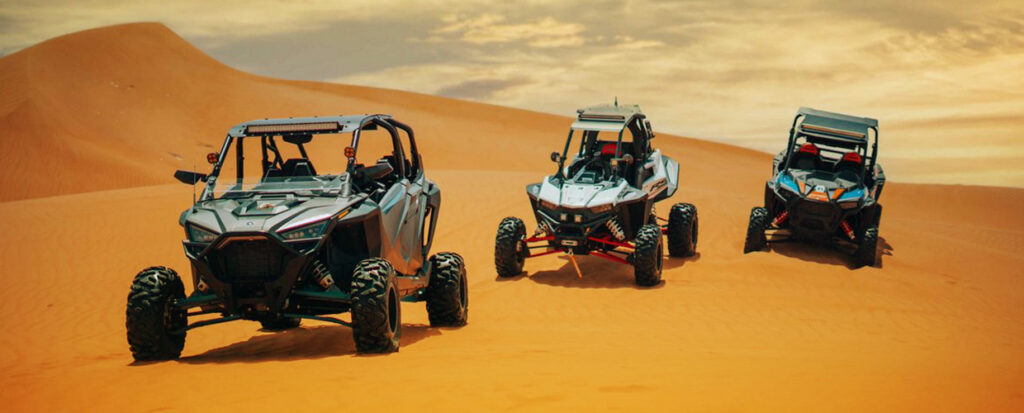 Don't Drive a Quad Bike on Public Roads  
Never take your quad bike on public roads and highways. That is against the law, and traffic police will probably fine you. These bikes don't meet road safety standards and are prohibited in such places. 
Drive Carefully When Going Up or Down a Dune 
Driving up and down a tall dune is challenging, and one must be extra careful in this situation. When climbing, keep your speed steady and don't brake too hard. A similar can be done when going down a hill. Also, maintain your posture to ensure the stability of the bike. 
Be careful When Crossing obstacles
When you see obstacles in the area, like giant rocks, fallen tree branches, or deep ditches, drive carefully around them by slowing down your bike. Don't try to be a superhero; trying to stunt by jumping over them is very dangerous. 
Don't Throw Garbage or Injure Desert Animals 
Maintain a clean and neat environment in the area where you are driving. Don't throw garbage or litter anywhere that may harm the ecosystem. There are special warning signs that mention this. 
Further, don't harm any desert wildlife species you see along the way, and slow down your quad bike if you see one. Avoid driving in restricted areas.  
Take Breaks During the Ride 
A quad biking tour is physically exhausting; one must take breaks and drink water to maintain hydration levels. You can also bring small snacks like protein bars and juices to energize your body during this break.
Observe the Weather Conditions of the Area 
Keep yourself informed about the weather conditions on the day of your quad bike rental Dubai tour. Download a mobile app for weather forecasts and ask your tour operator. It is best to avoid going on such an excursion during sandstorms or heavy rain. The desert terrain becomes difficult to drive on and can cause accidents. 
If possible, schedule the tour on another day. At Best Dune Buggy Dubai we offer 100% in such cases and reschedule the tour. Just let us know what you want, and we will gladly comply.
Preparing for Emergencies
Certain emergencies may arise during the tour that you may never know of, but you must always come prepared for such situations. Here are a few pointers:
Always carry a first aid kit to treat injuries that might happen due to accidents and reduce blood loss. Keep bandages, antiseptic wipes, and pain relievers in your kit to relieve injured individuals. 
Bring a Water Bottle to Keep Yourself Hydrated 
As you know, the quad bike rental Dubai tour is conducted in the desert, where the climate is scorching hot, which may cause you to sweat profusely and dehydrate. We recommend carrying a water bottle and drinking it regularly during the break. We have mentioned this before already, but we are doing it again so you can understand its importance.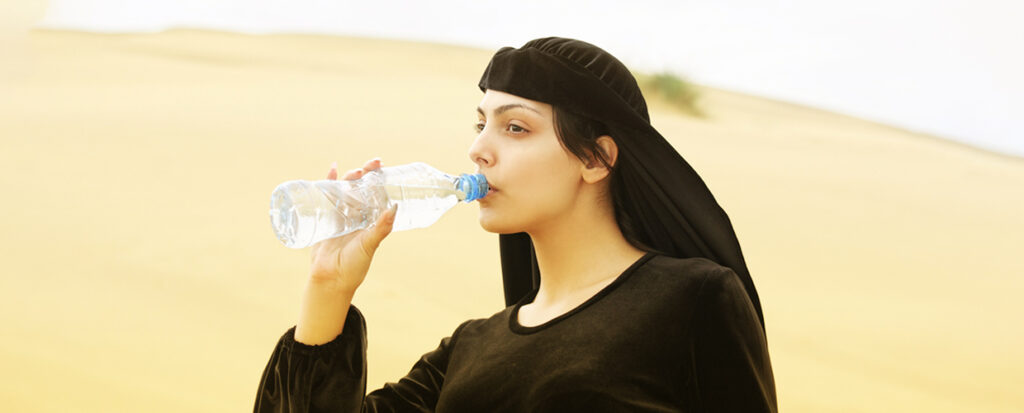 Carry a Communication Device 
You must always carry a communication device like a walkie-talkie or radio to keep in contact with your group and tour operator in case you get lost and venture far away. Mobile phones are useless because you will get zero signals in a remote location in the desert, so other options are feasible.
Additional Tips For Extra Enjoyment
Until now, we have discussed only safety tips, but what about the adventure and enjoyment you are here to experience? How can we improve it? Here are a few ways
Bring a Camera for Photography
You are out in a beautiful desert location, and how can you not capture the scenery and magical moments that happen here? That's why we recommend bringing a camera to photograph your memories of the trip and keep them as souvenirs. A DSLR is ideal for this trip, but a phone camera will also do. Bring extra batteries so you don't run out of power.
At Best Dune Buggy Dubai we provide photography services at little additional cost. If you want one, just let us know; our professional photographers are always here. 
Book a Tour in the Evening
We recommend booking a quad biking tour in the evening, there are two reasons for this. First, you can avoid all the heat during the daytime without worrying about heatstrokes. Secondly, you get to see the beautiful sunset views that are hard to find in the city. Observe as sand changes color when the sun goes down and capture it on your camera.
Book a Complete Desert Safari Tour for More Fun 
If you want to take your desert adventure a step further and experience the Bedouin hospitality and culture of Dubai, then you must book a desert safari tour. Such a tour has all the elements to make your Dubai tour worthwhile and memorable.
Here, you can experience camel riding, soar above the sands in hot air balloon rides, enjoy BBQ dinner at the campsite, and see local dance shows for entertainment. This is just a brief explanation; there is so much more.
It is our best wishes that you have a memorable and enjoyable experience during your quad bike Dubai tour. Follow the above tips, and we ask you again never to compromise your safety. If you are looking to book quad bike tours at reasonable rates and within your budget limit, call Best Dune Buggy Dubai. We provide lower and more competitive prices compared to other tour operators and always prioritize the safety of our guests. Our bikes are maintained in top-notch conditions and safety equipment has no faults. Further, our tour guides are here to ensure your safety.